Sterling Strong Foundation ❤︎
Introducing the Sterling Strong Foundation, Inc., a recognised 501(c)(3) non-profit, in honour of Sterling Raspe.
The Foundation's goals will be to help families in a similar situation to Sterling's: rare/chronic illnesses, long/multiple ICU stays, multi-system affecting conditions, treatment outside of home state, etc. with a few things which we (her mom & dad) personally took comfort from during Sterling's 207 days in the ICU, & help bring awareness to, and be an advocates of, congenital heart disease (CHD), Kabuki syndrome, Isomerism/Heterotaxy, and other rare diseases.
Things such as:
Paying a bill or two

It was difficult to make sure all our I's were dotted and our T's were crossed in the ICU, not to mention adding an entire life outside of the hospital into the mix. Our monthly mortgage payment was paid twice by the generosity of others. It was a tremendous help for us. Maybe paying the water bill, a car payment, home insurance, etc., the smallest of thing can really make the biggest of difference.

comfort items

We purchased a mini projector and setup a little cinema in Sterling's ICU room. You wouldn't think you could have a 70" private cinema in an ICU room, would you? (we binge-watched Jersey Shore, et al). Things to help make parents/patients feel more comfortable/more at home, given the chaos.

self care items

We realised taking care of yourself is just as important as taking care of your child. Your child feeds off of your energy, and it's amazing what getting a pedicure/manicure, hair cut, new products to try, etc. does to the mood. Every mother, father, carer, etc. needs some self-care here and there.

items for baby's development

Nurses do a fantastic job, but they can't be everywhere and do everything (they're superheroes, but not that type of superhero). We purchased a sound recorder and recorded ourselves reading books to Sterling, we recorded albums, messages from family members around the world, prayers, you name it, and asked the nurses to play it whenever we weren't around. We were told it was a huge hit with Sterling, and it helped ease our minds that she was taking comfort from our voices when we weren't around. Staring at the ceiling all day isn't good for a baby's development. A night light that illuminated the room in stars and moons had Sterling obsessed. Oh, and don't get us started on her favourite pizza slice.

gift/meal cards

Everyone knows hospital food sucks. We learnt that Chick-fil-A and Frank's RedHot makes anything delicious, but sometimes a meal outdoors, take-out, or a delivered meal does wonders.

arts & crafts

We coloured. We painted. We made memes. We decorated the ICU room(s). Staying mindless helps block out the beeps and dings.

air quality awareness

Accumulating evidence indicates that air pollutants contribute to serious, sometimes fatal damage to the cardiovascular system, even for previously heart-healthy individuals, and further acerbates symptoms for already-at-risk individuals, like Sterling. You can't treat air pollution with diet, exercise, or medication, so we're all better off by advocating for better air quality. To raise awareness, we're bringing world-class air quality monitoring, to Gary, Indiana!

Visit millerbeach.community for more information.

and many other helpful deeds...
Interested in helping?
If you'd like to join us in helping these special families/warriors, please consider making a donation using the form below.
Your Donation Is Tax-exempt
Any philanthropists interested in helping are encouraged to email
Sterling
Raspe
It's with heavy hearts, we share the news that our sweet girl, Sterling Nova Lynn Raspe, 8 months and 3 days, of Gary, Indiana, passed away peacefully in her parent's arms, surrounded by family at 09:22 AM on May 11th. Born to Madeline Marie Raspe of Crown Point, Indiana and Kingsley Aaron Stafford Raspe, originally of Tamworth, England, at 08:28 AM on September 8th 2020, at Advocate Children's Hospital in Oak Lawn, Illinois.
Sterling's eight months on earth were quite unique, but her story didn't start there. Her story began when her mom and dad met in 2015. Sterling's life was the missing piece to their parent's love story. As if sharing the other half of Banky's "Balloon Girl" tattoo to remember the loss of their parents wasn't fate enough, Sterling was the little girl with the heart-shaped balloon tying Kingsley and Maddie together for life.
At her 21-week anatomy scan, Sterling was diagnosed with hypoplastic left heart syndrome variant (HLHS), a rare type of congenital heart disease (CHD). At three months old, she was diagnosed with Kabuki Syndrome, a rare multi-system-affecting genetic condition that can affect the entire body. Sterling, the HLHS Warrior, was also Sterling the Kabuki Queen. Despite being 1 in 700,000,000+, 207 days in the PCICU, 9 surgeries, there was not a second that went by that Sterling was not smothered in love, prayer, or celebration. Although Sterling's life was short, her fight and strength touched the hearts of strangers from all four corners of the world.
Sterling Nova Lynn Raspe's legacy will live on through the many lives she touched. She was the embodiment of strength, fight, love, hope, peace, and joy. Against all the odds, she taught us to smile through the hard times, laugh at the inappropriate times, love without limits, and see the beauty and worth in all things big and small. She helped raise awareness and shined a light on HLHS, CHD, Kabuki Syndrome, and other rare diseases. Sterling taught us all something.
The word Sterling comes from the word "steorra", meaning star. The word "nova" means new. Sterling Nova. A little star made new and whole in heaven. A nova is when a star's gas builds up and triggers an explosion making it shine up to a million times brighter than normal.
May we all remember her life and be "Sterling Strong" because her life and impact on this earth and our hearts was a supernova. May she forever Rest In Peace with our creator who created her perfectly imperfect.
Sterling's service was held at Geisen Funeral Home in Crown Point, Indiana, at 2 PM on Tuesday, May 18th. Thank you to everyone who has helped support Sterling, us, and our families during the past year. We couldn't have done it without you.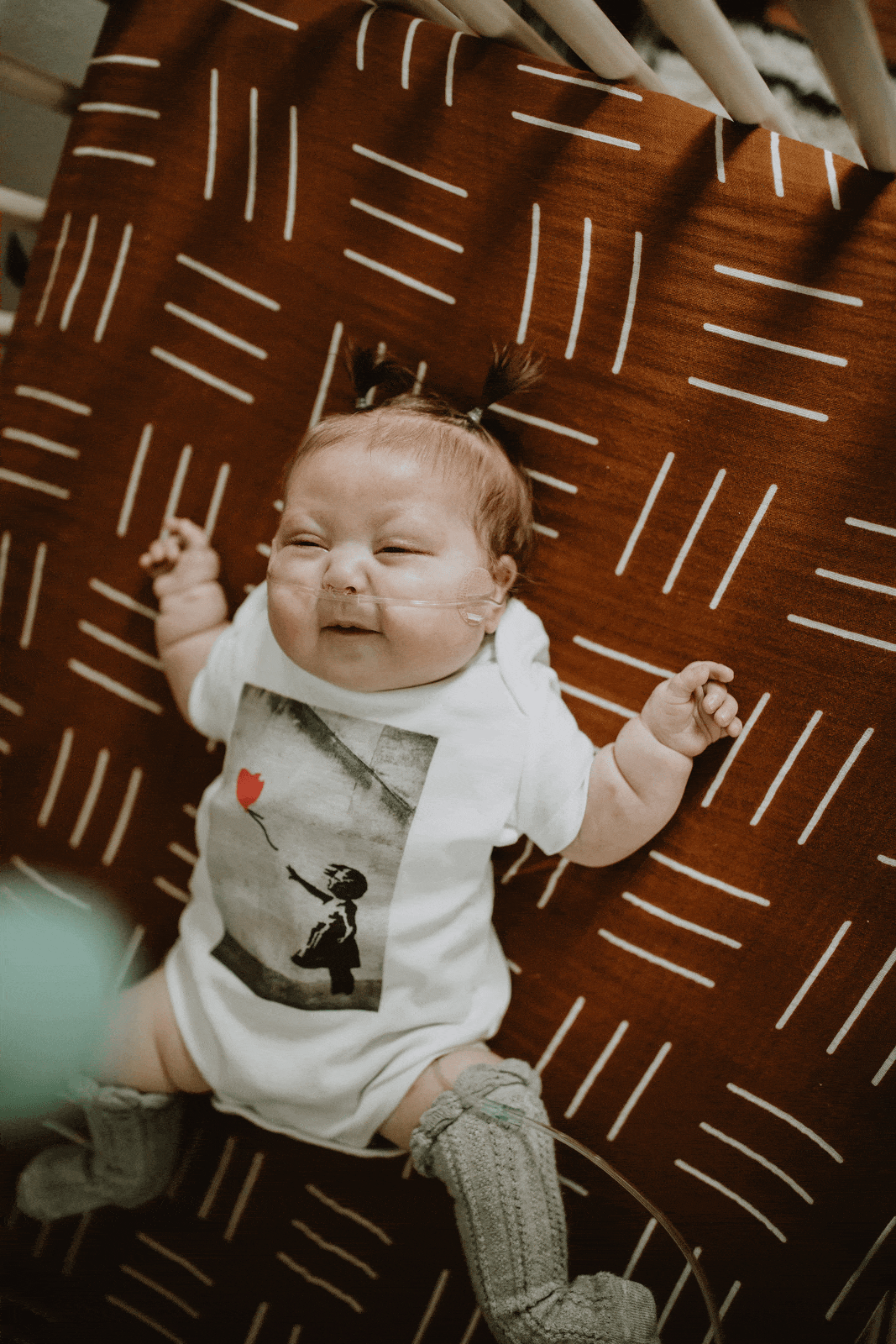 Sterling Strong Dates
Sterling Strong Day
April 17th 2021
Ava Micheal Beautique put on the original "Sterling Strong" day, it included a braid bar, up-do's, music (and more), and the money raised went to Sterling's medical bills. Thank you, Ava Micheal Beautique!
Ava Micheal Beautique
120 S Main St
Crown Point
IN 46307
avamichaelbeautique.com
Sterling Strong Day
June 12th 2021
Moda were kind enough to put on a "Sterling Strong" day, they put on a braid bar, did up-do's, face painting, music, raffles, (and more) and the money raised was donated to Sterling's Foundation! Thank you, Moda!
Moda Beauty Bar
10921 Miami St
Winfield
IN 46307
modabeautybar.com
Blood Donation Drive
August 31st 2021
Sterling had 9 surgeries, and needed many blood transfusions, she was also immunocompromised and needed weekly IVIG infusions made from plasma of blood donations.
To make an average yearly dose of IVIG for patients who need it, it takes 250 liters of blood plasma. To make 1 liter of plasma, four whole blood donations are needed. [source]
Your blood donation is more than just blood for many people.
Help us keep the blood banks full!
CrossPoint Church
214 S Court St
Crown Point
IN 46307
Please book an appointment to secure your spot!
Celebration of Life & Foundation Launch
Join us for Sterling's 1st birthday, a celebration of her life, and for the launch of her foundation! Live music, caricature drawings, silent auction, and more!
Gary Aquatorium
6918 Oak Ave
Gary
IN 46403
What an incredible day! We raised over $4,000 - thank you to everyone who helped show their support and/or who has contributed in some way! We appreciate you!
Delivered Christmas Care Packages to the PCICU 🎅
Maddie and Kingsley delivered 20 home-made boxes full of festive goodies to the PCICU for babies and their families, and their ICU room.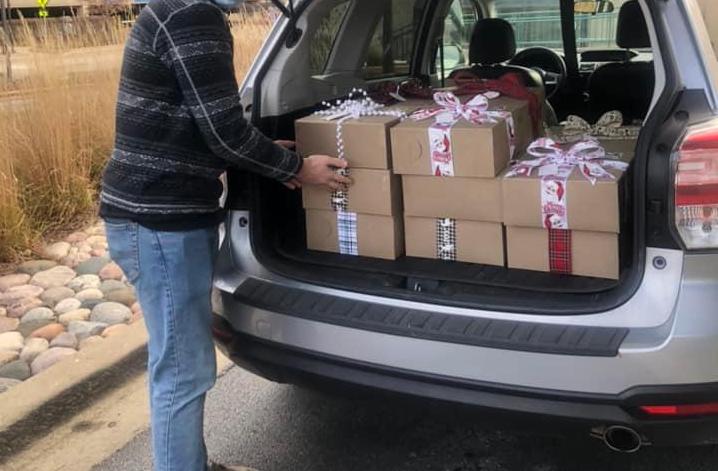 Full of decorations, twinkle lights, coffee mug, candy, socks, stockings, cookies, books, gift cards, a felt board and more, the boxes were sponsored by families and businesses in Northwest Indiana, and their animals.
We also delivered 20 voice recorders preloaded with wonderful songs, poems, stories, and more, to the PCICU directly, made by Anna Bucci and other fantastic artists.
Doctors, nurses, therapists, and families can use the voice recorders to soothe the babies, playing recordings of their parents voices reading stories, playing music, etc.
IRS Approves Tax-Exempt Status
Sterling Strong Foundation was recognised as a tax-excempt 501(c)(3) nonprofit organisation on both a national and state level with EIN 87-2210499.
Sterling's Blood Drive Appears on ABC 7 Chicago
More to come!
Stay tuned!
Pop Tabs Collection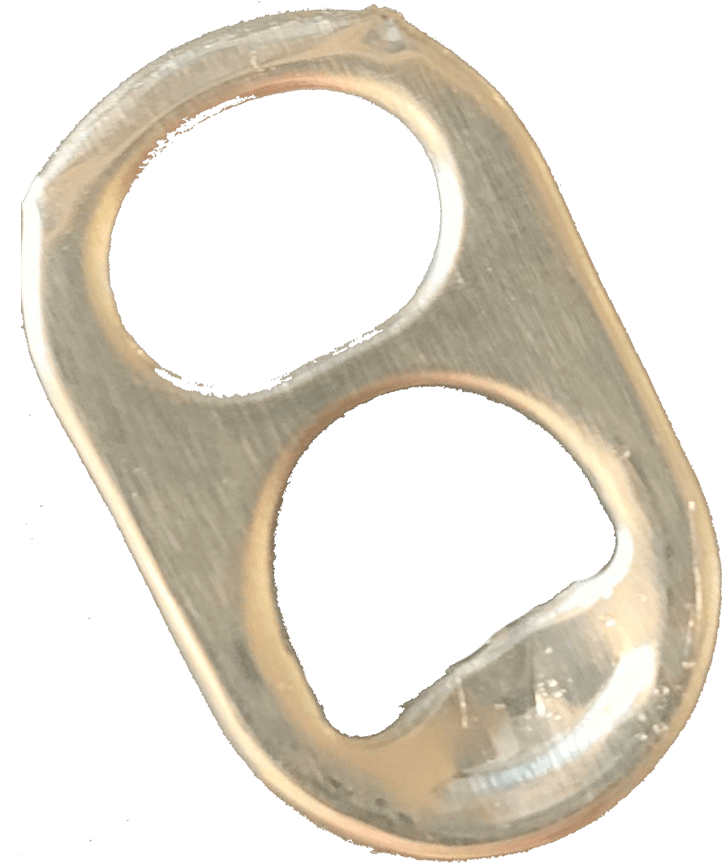 We are collecting 1 million pop tabs to help give back* to the Ronald McDonald House. The Ronald McDonald House helped our family by providing a "home away from home" for us. By raising 1 million pop tabs (or 789.27 lbs), the Ronald McDonald House in Oak Lawn will add Sterling's name to their Thanks A Million tree.
* "[...] United Scrap Metal, buys the pop tabs [...] at market rate and makes an additional charitable contribution. While the price of aluminum changes regularly, we receive an average of 40 to 55 cents per pound." [source]
Progress
Drop Off Locations
You can drop off bags of pop tabs/ring pulls to the following locations:
Hair Shapers Salon


114 N West St #3916
Crown Point
IN 46307

HQ


7727 Oak Ave
Gary
IN 46403
"The Sterling Sessions"
Music was a huge part of Sterling's life even before she was born.
We knew her birth and the first few weeks were going to be chaos. We had both read about baby's exposed to music in-utero were soothed by the same music as newborns. It was worth a shot! Lacksley Castell's "Speak Softly" was Sterling's record of choice (she was probably bored of hearing it by the time she was born). We played it whenever she would have any procedure. We think it helped calm her, and us.
A lovely music therapist at the hospital offered to customise "Speak Softly" into "Speak Softly Sterling" and asked us to write our own lyrics specifically for Sterling. It was a hit! It's since grown and we produced 3 songs together. We recorded Sterling's heartbeat thanks to a special stephescope, and the music therapist was able to use heartbeat recording in the songs!
If Sterling could talk now, (we hope) she would say these were some of her favourite songs (or maybe her parents' favourite songs?). I wonder if it's because reggae is relatable to Sterling's life; beautiful songs about love, happiness, and sorrow, wrapped up in an upbeat tempo, and enjoyed forever.
May they bring you smiles/wiggles like they brought us. Reggae is the music of healing
Let's keep Sterling's
legacy a jammin'